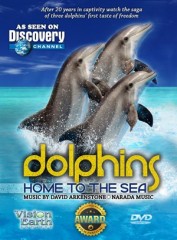 Become of member of Vision Earth Society and receive a complimentary copy of our award winning DVD, Dolphins Home To The Sea.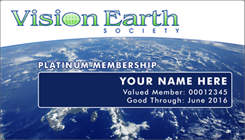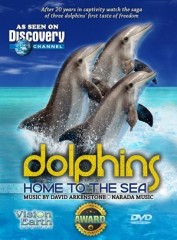 The history of Rocky, Missy and Silver, three bottlenose dolphins, and the dedicated men and women who made a dream come true. Animal rights activists, marine biologists, scientists, veterinarians trainers, Turks and Caicos islanders and filmmakers all joined together in the historic rehabilitation and release of these abused and captive dolphins. After months of intensive training, Rocky, Missy and Silver were released to explore the oceans and choose their own destiny. Imagine being set free after 20 years of confinement. Follow the true and heartwarming story in this one-hour video presentation.

DVD, 52 minutes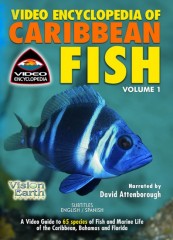 An informative guide to life beneath the waters of the Caribbean, Florida, and the Bahamas. View over 65 species of fish and marine animals in their natural habitat, beautifully filmed with state-of-the-art equipment. Narrated by renowned naturalist David Attenborough with music by David Arkenstone, Narada Music.

DVD, 60 minutes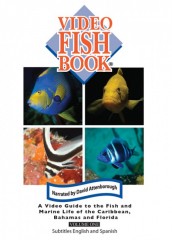 Video Fish Book

Join us on a delightful journey to the bottom of the Caribbean Sea! Dive down into the colourful, out of this world environments filled with fantastic fishes of all shapes and sizes. Get lost in the majestic coral reefs, swim alongside a school of Blue Tangs, and always keep an eye out for the curious and nimble Barracuda.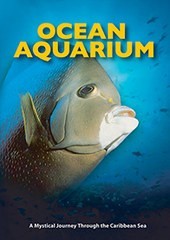 Explore the colorful and fascinating marine life of the Caribbean. This beautifully photographed video will take you over miles of some of the most spectacular coral reefs. You'll fall in love with playful angelfish, or get lost in expansive coral gardens. This sixty minute video covers 75 species of fish in their natural reef environment.

DVD, 60 minutes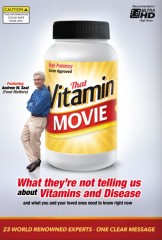 ​With prescription medications now in the Top 10 killers of Americans, taking more lives than illegal drugs and more lives than car accidents, this timely documentary shows that there is a safer, more effective and cheaper way to tackle illness. It reveals a 65 year history demonstrating that vitamins and other supplements work. Experts from all around the world give plain and simple advice which they believe will help us live longer, feel better and cut worldwide healthcare budgets by billions.

DVD, 86 minutes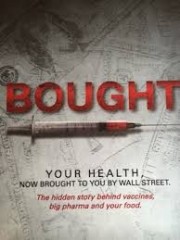 The food, vaccine, drug, insurance and health industry are a multi-BILLION dollar enterprise... focused more on profits than human lives. The BOUGHT documentary takes viewers deep "inside the guts" of this despicable conspiracy...

Featuring exclusive interviews with the world's most acclaimed experts in research, medicine, holistic care and natural health... Bought exposes the hidden (and deadly) story behind it all.

DVD, 92 minutes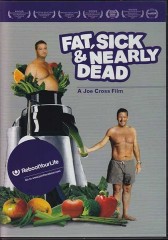 100 lbs overweight, loaded up on steroids and suffering from a debilitating autoimmune disease, Joe Cross was at the end of his rope. Tipping the scales at 310 lbs, Joe saw a path laid out before him that wouldn't end well. FAT SICK & NEARLY DEAD is an inspiring film that chronicles Joe's personal mission to regain his health.

DVD, 97 minutes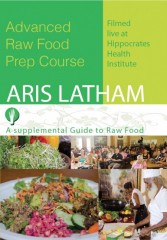 Founder of Sunfired Cuisine, Dr. Aris LaTham, is widely considered to be the father of gourmet raw living cuisine. In this informative video, Dr. LaTham guides us through the preparation of several scrumptious Raw Delicacies including a Savory Squash pie, Raw Nuggets, and he introduces us to his Sunfired Feasting, Fasting, and Healing System.

DVD, 93 minutes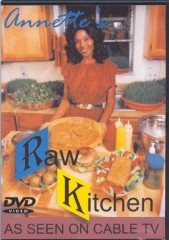 Annette Larkins, author of the booklets Journey To Health and Journey To Health 2, introduces royal treats of life in The Kingdom of Living Foods. From her 12-part television series Health Alternatives with Living Foods, she delights and entertains while demonstrating how simple it is to prepare "flavorlicious", raw food dishes.

These mouth-watering goodies dispel the myth that raw meals consist simply of lettuce and tomatoes. Watch, learn, and use acquired knowledge to make easy, tasty recipes, designed to encourage a healthier lifestyle. The Breakfast and More, Pizza and More, Lunch and More, and Dinner and More presentations will inspire you, your family and friends to create your own raw cuisine, which will have you chanting "Yummy, yummy for my tummy."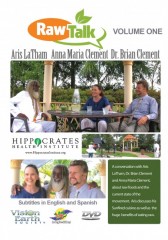 A conversation with Aris LaTham, Brian Clement, and Anna Maria Clement, about raw foods and the current state of the movement. Aris discusses his Sunfired cuisine as well as the huge benefits of eating raw.

DVD, 45 minutes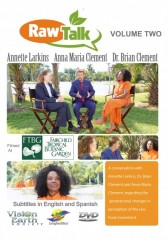 A conversation with Annette Larkins, Dr. Brian Clement and Anna Maria Clement, regarding the generational changes in perception of the raw food movement.

Seventy-three year old Annette Larkins discusses her life as a raw vegan, and how global perception of the movement has evolved.


DVD, 34 minutes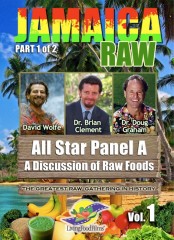 Volume 1 Video & DVD of the Jamaica Raw series features an All Star Panel of vegan raw food's most revered representatives including: Dr. Brian Clement, Dr. Douglas Graham, D.C., and David Wolfe. Mediated by Larry Levine (founder of the institute for Vibrant
Living), these giants of living food sit down to discuss their individual ideals, and delve into some of the most pressing matters of the current raw vegan food movement.

The intent of this panel is to share Brian Clement, Doug Graham, and David Wolfe's expertise and opinions on topics such as: a sustainable living, a vegan raw food diet, the nutritional benefits of living foods, and general approaches to health and hygiene. Listening to where their ideals enthusiastically coincide, and where their opinions differ (sometimes quite strongly), offer fascinating insight into the practical details of living raw and staying fit. Further, in this video, they dive in and explore these differences of perspective in depth, and through Brian, Doug, and David's understanding of these critical topics, we can come to our own personal conclusions and through this grow in our own way!


DVD, 85 Minutes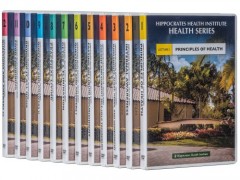 Set of 12 DVDs with lectures about the Hippocrates Health Institute Living Foods Program.

12 DVD Set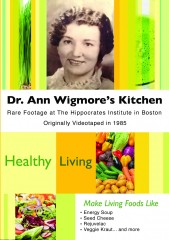 In this video Dr. Ann shows how to make living foods like: energy soup, seed cheese, rejuvelac, veggie kraut, and more.

Visit her pantry where she shows how to grow wheat grass. Learn to sprout, compost, plant, and harvest. An addendum by Dr. Flora adds insight from working with Dr. Ann for 25 years and explains Dr. Ann's dedication to wild edible weeds.

DVD, 48 Minutes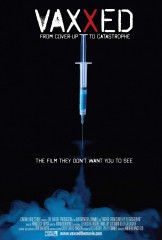 In 2013, biologist Dr. Brian Hooker received a call from a Senior Scientist at the U.S. Centers for Disease Control and Prevention (CDC) who led the agency's 2004 study on the Measles-Mumps-Rubella (MMR) vaccine and its link to autism.
The scientist, Dr. William Thompson, confessed that the CDC had omitted crucial data in their final report that revealed a causal relationship between the MMR vaccine and autism. Over several months, Dr. Hooker records the phone calls made to him by Dr. Thompson who provides the confidential data that was destroyed by his colleagues at the CDC.
Dr. Hooker enlists the help of Dr. Andrew Wakefield, the British gastroenterologist falsely accused of starting the anti-vax movement when he first reported in 1998 that the MMR vaccine may cause autism. In his ongoing effort to advocate for children's health, Wakefield directs this documentary examining the evidence behind an appalling cover-up committed by the government agency charged with protecting the health of American citizens.
Interviews with pharmaceutical insiders, doctors, politicians, and parents of vaccine-injured children reveal an alarming deception that has contributed to the skyrocketing increase of autism and potentially the most catastrophic epidemic of our lifetime.

DVD, 91 Minutes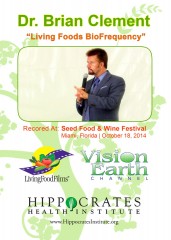 Dr. Brian Clement (Co-Director of Hippocrates Health Institute) speaks at the Seed Food & Wine Festival about living food bio-frequencies.

DVD, 24 Minutes