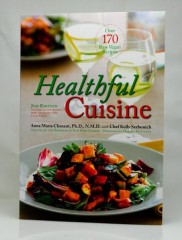 Healthful Cuisine, 2nd Edition, by Anna Maria Clement, PhD, NMD with Chef Kelly Serbonich. Created by the founders of Raw Food Cuisine Hippocrates Health Institute. Over 170 Raw Vegan Recipes.

Includes 20 NEW recipes from celebrity Chef, Chad Sarno.

Access the Life Force of Raw and Living Foods For Optimal Health and Vitality!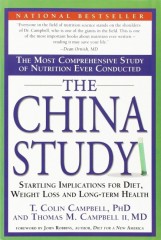 Even today, as trendy diets and a weight-loss frenzy sweep the nation, two-thirds of adults are still obese and children are being diagnosed with Type 2 diabetes, typically an "adult" disease, at an alarming rate. If we're obsessed with being thin more so than ever before, why are Americans stricken with heart disease as much as we were 30 years ago?

In The China Study, Dr. T. Colin Campbell details the connection between nutrition and heart disease, diabetes, and cancer. The report also examines the source of nutritional confusion produced by powerful lobbies, government entities, and opportunistic scientists. The New York Times has recognized the study as the "Grand Prix of epidemiology" and the "most comprehensive large study ever undertaken of the relationship between diet and the risk of developing disease."

The China Study is not a diet book. Dr. Campbell cuts through the haze of misinformation and delivers an insightful message to anyone living with cancer, diabetes, heart disease, obesity, and those concerned with the effects of aging.

[paperback]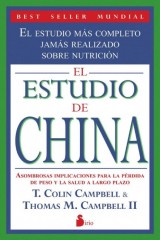 El estudio de China : sorprendentes implicaciones para la dieta, bajar de peso y largo plazo de la salud es el recurso definitivo para cualquiera que esté considerando una dieta basada en vegetales y , debido a esto, màs de medio millón de personas han recogido el libro.