Jamaica Raw DVD, Volume 4
back to DVD / Blu-Ray Media > Jamaica Raw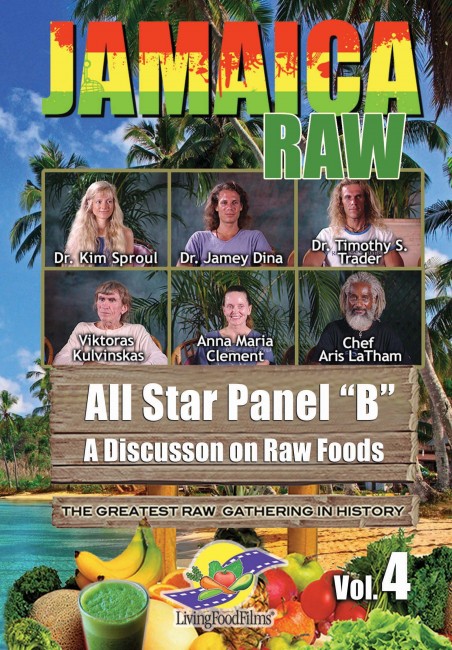 Volume 4 of the Jamaica Raw series features Viktoras Kulvinskas, Anna Maria Clement, Dr. Jamey Dina, Dr. Kim Sproul, Dr. Tim Trader and Chef Aris LaTham in an in depth discussion of the raw food movement and lifestyle.

Featured in this volume, is a discussion by an esteemed panel of scientific, and culinary masters in the field of raw, living foods. Topics include: How to gradually shift your dietary habits, tips for introducing the family to a living food diet, pesticides, herbicides, and their detrimental health effects, and the effectiveness of nutritional supplements.


DVD, 55 Minutes




Dr. Kim Sproul is a respected nutritional consultant whose advice is sought by many. Her client list includes a number of medical doctors and registered nurses (many of whom purchase products from her company regularly, and some who also provide these products to their own patients).

Dr. Jamey Dina is a respected health researcher, nutritional consultant, product developer, writer, public speaker, and teacher. He along with Dr. Sproul authored Uncooking with Jamey and Kim and founded HealthForce Nutritionals, a company that provides highly researched, select products and services that really make a difference in peoples health.

Dr. Timothy S. Trader in Recent autobiographical sketches states that he obtained a naturopathy degree from Clayton College and in 1991 got a "Ph.D." from the Life Science Institute.

Viktoras Kulvinskas is a Lithuanian World War II survivor who retired from teaching College Mathematics & Computer Systems, as well as a business consultant with the likes of the Apollo Mission, M.I.T., Smithsonian and Harvard at 29, to pursue holistic lifestyles. During the last 40 years, he with Ann Wigmore pioneered the co-founding with of the Hippocrates Health Institute, where he acted as Director of Research.

Anna Maria Clement Is Co-Director of the Hippocrates Health Institute located in West Palm Beach, FL. Anna brings a refreshing European approach to healing. She speaks seven languages, and travels the world with her husband Brian, to lecture on the topics of natural health methods in family and pediatric care.

Dr. Aris LaTham was born in Gatun, Panama Canal Zone. He is a direct descendant of an African-Caribbean family of Culinary Griots, as well as vegetarian legacy bestowed by way of his Indian ancestry, who has become a world renown crusader in the area of wholesome foods.

Jamaica Raw. Filmed in Jamaica, a series of discussions, lectures and demonstrations given by esteemed raw and living food masters gathered from around the globe. We hope to share with you their wisdom, experience, and delicious raw recipes! Our mission is to spread to world the wholeness and health benefits provided by the phenomenal benefits of a raw diet, and the consumption of living foods.