Green Star GS-1000 Juice Extractor
back to Home and Kitchen > Juicers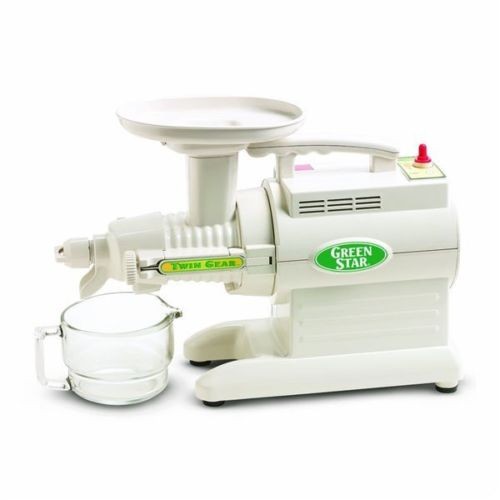 The Green Star GS-1000

The only juicer you'll ever need! For juicing fruits and vegetables of virtually every description, The Green Star Juice Extractor has no rival.
From hard roots (carrots, ginger) to fibrous stalks (celery, rhubarb) to even the toughest leafy greens (kale, wheat grass), nothing is better at unleashing every drop of nutrition from fresh produce to boost your health, energy and overall sense of well-being.

All models contain everything you'll need for easy juicing and food processing. Green Star Juicers feature an exclusive low-speed, quiet and heavy-duty Twin-Gear impeller press system that operates with minimal noise, friction and heat, preserving even the most fragile nutrients. HD Twin-Gear juicing technology produces higher juice yield and enhances the nutritional value of every drop. UL, CE, and TUV certified with 5 year warranty. Set includes fine screen, glass juice pitcher, cleaning brush, plastic and wooden plungers. 110V Model Automatic pulp ejection for continuous juicing and easier clean-up Easily juices most fruits, herbs & vegetables and grinds nuts & grains Works as a food mill for preparation of baby foods, sorbets and nut butters Easy to clean and assemble Portable with balanced sure grip handle for easy carrying.

Available in 110 or 220 volt models.